The best of European street food: Wales's fried fish tacos
The Bearded Taco is the lovechild of Sian, from Cardiff, and Jake, from California. Together, they've created a taco menu that does away with pretence and imitation and instead pours effort into flavour and design. Of course, Mexico is the inspiration, but across the South West and Wales the truck can be found dishing out such inventions as gin and tonic tempura avocado tacos and Moroccan chicken with carrot, as well as classics like cheesy quesadillas and loaded nachos with hot sauce, sour cream and jalapenos.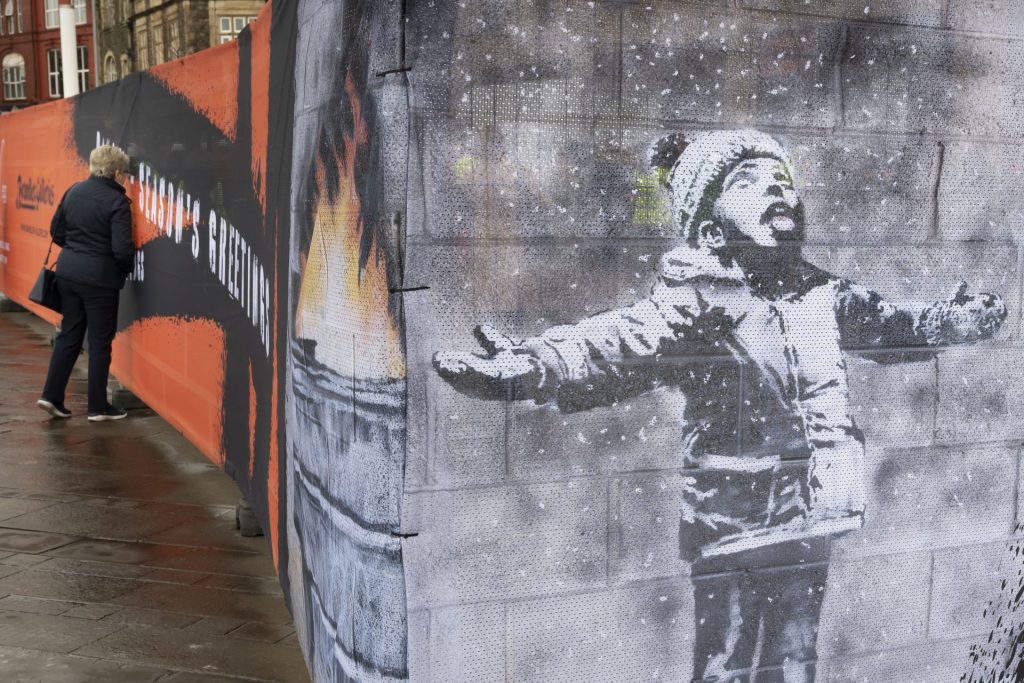 The Port Talbot Banksy, officially known as
Season's Greetings
, shows a child dressed for snow playing in the falling ash and smoke from a skip fire.
Photo: Matthew Horwood/ Getty
SERVES: 10-12
Ingredients
(if making your own tortillas)
1 cup of masa harina (available online or in a Mexican shop)
1.25 cup of warm water
1tsp salt Method Mix all above ingredients together in a medium-sized bowl with your hands and knead until it forms a soft dough (approx 10 mins)
Use a weighing scale to measure the dough into 40g balls or just divide dough into 10/12 equal-size balls. Press each ball into tortillas using a 6 1/2 inch tortilla press (if you don't have one you can also improvise with a rolling pin or your hands). Preheat a large skillet (cast iron works best) over medium-high heat.
Place tortillas into the hot skillet and allow to cook for approximately 30 seconds, or until browned and slightly puffy. Turn tortilla over to brown on second side for approximately 30 seconds more, then transfer to a plate. Repeat process with each ball of dough.
Keep tortillas covered with a towel to stay warm and moist until ready to serve or wrap in cling film until ready to heat later. Ingredients: fish 1kg sustainable white fish (eg cod/ haddock/hake)
Vegetable oil, for frying
For the batter
225g self-raising flour (swap out for gluten-free self-raising flour to make gluten-free, available in most free-from sections at supermarkets)
330ml beer (lighter beer works best, again use a gluten-free beer to make this recipe suitable for gluten allergies)
1tsp dried thyme For the honey and lemon slaw
Half head Napa or similar cabbage, shredded
1/4 head red cabbage - shredded
1 medium carrot, shredded
1 small green apple, grated
1tbsp honey
1 lemon - juice and zest
3tbsp rice wine vinegar
Pinch of salt or more to taste For the chipotle tartare
(please note we usually make this from scratch but recommend using a jar of mayonnaise for ease)
1/2 cup of mayonnaise
1 clove garlic
1tbsp white wine vinegar
1 chipotle chilli (or 2 depending on desired heat level)
1tbsp capers
1tbsp fresh chopped parsley
Pinch of salt or more to taste Method for the dish Portion the fish into 10/12 equal slices (about the length of the tortilla) Heat oil in a large frying pan or tabletop fryer to 185?C
For the slaw: In a large bowl combine the shredded cabbages, carrots and apples. In a separate small bowl mix together the honey, lemon juice, lemon zest, rice wine vinegar and salt until the honey is completely mixed in.
Add the dressing to the slaw and mix well. For the chipotle tartar sauce: In a food processor or blender, combine the mayonnaise, chipotles, garlic, white wine vinegar, capers, fresh chopped parsley and salt until smooth. Transfer to a small bowl or squeezy bottle if you have one.
For the fish: In a large bowl, whisk up flour with the beer and thyme into batter. Dredge fish pieces in flour, dunk into batter and fry a few pieces at a time to deep golden brown.
Salt fish when they come out of the oil, while they're still hot. Keep warm in a moderate oven on a wire rack set on a rimmed baking sheet if not serving straight away. Warm your tortillas in a hot, dry skillet or over a burner flame.
Serve fish with tortillas and fixings on top when ready.
Finish with fresh chopped coriander and a wedge of lime to squeeze on top.